If you're planning your next short break, trawling the web for best deals and the most popular accommodation, do you choose a hotel in Salcombe or a more homely B&B?
In this article, we help you consider why a B&B may offer a better experience than a Salcombe hotel.
What is the difference between a hotel, guesthouse and B&B?
VisitEngland calls both B&Bs and guest houses 'guest accommodation', TripAdvisor defines  a 'hotel' as having a 24 hour reception and AA Hospitality say that an establishment with 'hotel' in its name should be treated as a hotel.
What about the star rating scheme?
A star rating scheme applies to B&Bs and hotels but the criteria for each is different so you're not comparing apples with apples
Hotel or B&B size?
It's common that anywhere with 10 bedrooms or less is seen as a B&B, 10-25 rooms a guesthouse and anything more a hotel and while this is often the case it's not a strict rule of thumb.
So the distinction is really not so clear.
What about boutique B&B's?
The phrase, 'boutique B&B' or 'boutique hotel' is used where owners want to convey that the establishment is high quality with extra attention paid to style and design. This is where the line between hotel and B&B becomes very blurred.
What does 'bed and breakfast' mean to you?
Many people often associate high quality (white, crisp bedding, luxury toiletries, fancy showers) with hotels, whilst thinking about chintz, floral bedspreads and a list of restrictive 'house rules' for B&B's. But, with a boutique B&B, you can get all the luxury of a nice hotel and more.
So before you start your search for accommodation with a presumption it's a Salcombe hotel you need, think about what you'd like from your stay and if a B&B may in fact offer more of what can make your stay that bit more enjoyable.
"You know when you book a B&B and it turns out to be a boutique hotel? No? Well come to Brightham House B&B and find out! This absolute gem of a place shows what can be done when owners take pleasure in looking after guests with no attention to detail spared. Scott and Alistair have created an astonishing experience – from the quality of the beds and bed linen to the chic decor and fittings (every room themed differently); from the Rituals toiletries to the choice of different coffees…in your room; from an honesty bar that would not look out of place in Soho to the fabulous breakfasts – this place utterly exceeds expectations and thoroughly deserves the plaudits."
10 reasons why Brightham House is so special
1.   Award-winning B&B
Brightham House won the AA award for 'Unique B&B' of the year 2019-2020.
1.   5 star breakfast
We also won the AA breakfast Award 2020, which was a dream come true for co-owner, Scott – a chef before we opened Brightham House. You're in for a real treat at breakfast time!
"You will be served a breakfast the Ritz would envy! Scott was formerly a Chef at a Bistro and has brought his talents to the breakfast table. Pastel de nata, porridge brûlée, every yumminess on toast you can imagine, fresh juices, cereals and beautiful coffee."
Tripadvisor review, March 2020
2.   Local knowledge
No-one knows a place better than someone that lives there.  We can recommend local things to do and places to visit for sunny or rainy days. We've linked up with some of the most popular attractions, such as the Salcombe Gin School to provide our guests with special deals.
3.   Hot tub
What better way to relax after a long day of exploring the wonders of the South Ham's walks and beaches than stepping into the wood fired hot tub.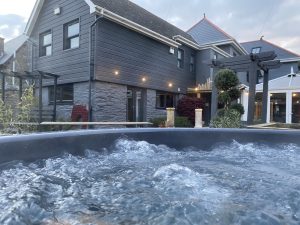 4.   Fitness hut
With keep fit being high on our list of life's essentials, we've invested in an indoor fitness hut for our guests, it's free to use and always open.
5.   Guest bar
This is not just a little table tucked away in a corner with a few bottled spirits on it, this is a fully-stocked bar which caters for everyone's favourite tipple.
6.   Salcombe hotel style luxury
At Brightham House, every room is en-suite and we have Egyptian cotton bed linen, huge sumptuous bath towels and Rituals toiletries in all our rooms. Plus, there's a Nespresso coffee machine and a generous tea tray for every guest to enjoy.
7.   Tripadvisor Certificate of Excellence
If you search on Tripadvisor for a Salcombe hotel, you'll see we are listed with an excellent 5 star rating, with over customer 150 reviews, such as this recent review (March 2020):
Fabulous B&B with lovely hosts (special mention to the lovely design touches in the rooms)
8.   The personal touch
The beauty of a B&B is that personal touch and you'll get this in abundance at Brightham House. From the text sent on the day or arrival with instructions on how to find the B&B and where to park, to the advice about the local area, nothing is too much trouble and your experience is what matters most.
9.   Dog-friendly B&B
It's not always possible to find someone to look after a dog and why should they miss out on a holiday, especially in the South Hams where we have lots of lovely walks for you and your dog to explore and enjoy. Our dog-friendly B&B is just the ticket.
10.  Four in a bed
Last, but by no means least, if you're a fan of Channel 4's 4 Four in a Bed, you may like the idea of seeing Scott and Alistair and Brightham House in the flesh after watching them on the small screen.
Book online or call us on 01548 560111 to make a reservation. We look forward to welcoming you to Brightham House.
CLICK HERE TO GO THROUGH TO OUR DIRECT BOOKING SYSTEM